* 巴黎BridgeStreet近日推出了一家Mode Aparthotel公寓式酒店。该酒店的设计理念涵盖了公寓式的空间和自由感、7*24小时酒店服务、全天候开放的设施以及当今商务旅客所需的高科技,环境舒适。该酒店模式重新定义了住宿,真正做到了让客人宾至如归---无论客人来自何处。
* 凯悦酒店集团与Donggwang Clark(DCC)达成协议,决定将凯悦品牌进驻菲律宾。该酒店名为Hyatt Regency Clark将于2022年开业。
* 圣地亚哥洲际酒店准备于今年9月进驻历史胜地Lane Field。沿海物业交由总部位于加利福尼亚州托伦斯的设计公司Linda Snyder Associates管理运作。
* Westgate Resorts近日宣称收购前纽约希尔顿大酒店,并将其改名为Westgate New York City。这家23层,300间客房的双塔酒店坐落在历史古城—都铎城,位于曼哈顿中区东侧的中心地带。
* 牛津酒店最近完成了重大翻新工程,该次翻新不仅是为了庆祝其走过的风雨岁月,同时也为了给当今旅客提供真实的城市体验。该酒店历史悠久,位置极佳,位于丹佛LoDo区的中心地带。
* 拉迪森旗下的Country Inn & Suites近日宣称开业新酒店——"冰川小屋"。该酒店位于美国2号公路东4150号,是户外爱好者首选之地。不管是远足小径还是探寻风景如画的冰川国家公园---美国大陆的皇冠宝石,均只需短短的车程。而且该酒店距冰河公园国际机场几分钟,并提供机场接送服务。
BridgeStreet Launches the First Mode Aparthotel in Paris
巴黎BridgeStreet推出Mode Aparthotel公寓式酒店
The Paris location is in the heart of the 16th arrondissement. Close to the Arc de Triumph and nestled in a quiet street off Avenue Victor Hugo, Mode Aparthotel comprises two restored 19th century, neo-renaissance buildings with a brand-new building adjacent to a courtyard.
BridgeStreet introduced a new aparthotel experience this month in Paris called Mode Aparthotel. The concept combines the space and freedom of apartment living, together with exceptional 24/7 hospitality and facilities – alongside the advanced technology and comfort demanded by today's business traveler. Mode is a concept that is redefining the extended stay model by inviting guests to feel like they're a part of a local community and treating them as if they were home – wherever they are.
"Business travel today is catching up to the growing demands of a new generation of business traveler. New technology and duty of care must be considered at any great property – that's a given – but culture and authenticity matter and Mode embraces the very best of Paris. We're tremendously proud of creating this experience and excited to share it with travelers around the world," said BridgeStreet's Chief Operations Officer, Brian Proctor.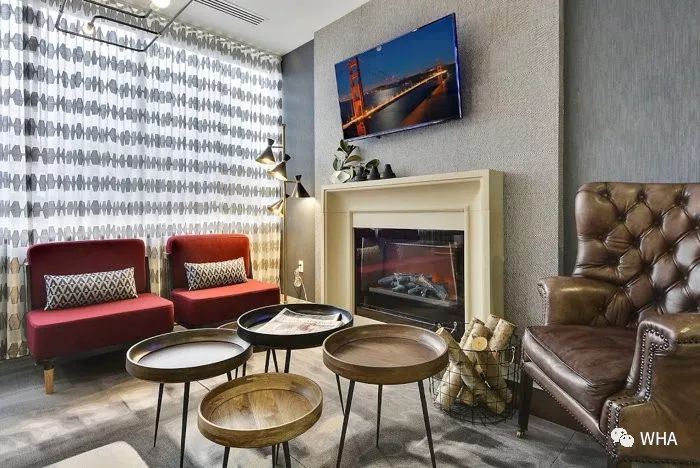 The Paris location is in the heart of the 16th arrondissement. Close to the Arc de Triumph and nestled in a quiet street off Avenue Victor Hugo, Mode Aparthotel comprises two restored 19th century, neo-renaissance buildings with a brand-new building adjacent to a courtyard. The interior spaces are classic and modern in harmony – with specially-commissioned artworks inspired by the city throughout the public spaces, studios and apartments.
In addition to the modern amenities you'll find at any accommodation (high speed Wi-Fi, guest lounge, 24/7 concierge) the 48 purpose-built studios and apartments are outfitted as an apartment might be. Dedicated working space, a kitchenette, crockery and cookware are all included. A lounge area provides a real sense of generosity and care – important for any traveler, business or otherwise, hoping to find comfort on their travels.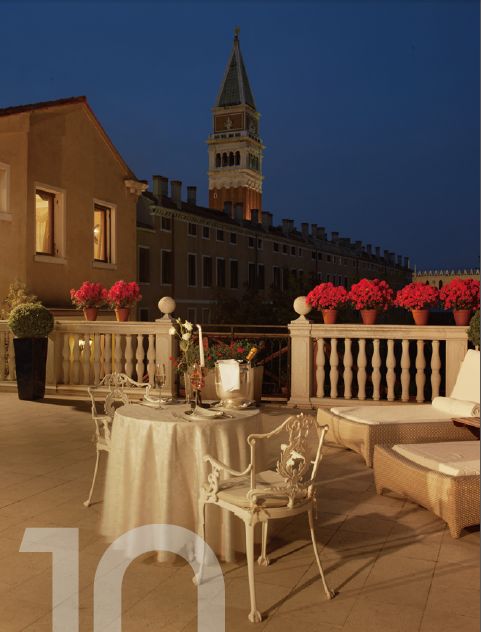 The immediate area around Mode Arc de Triomphe boasts some of the capital's best boutiques, stores, restaurants, museums, galleries, international schools and places of learning. The property is also conveniently placed close to corporate headquarters of the some of the leading names in business, finance, industry and fashion, as well as numerous embassies, consulates and missions. Mode is minutes from the local Metro station, 15 minutes from Gare du Nord, and 35 minutes from Charles de Gaulle International Airport.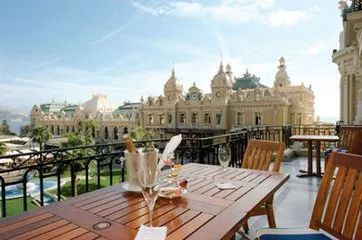 The ability to build these unique properties in any city center is owed to Mode's attractive business model. By using prized existing structures – often vacant or underused – developers can build practically and efficiently, still preserving the special characteristics of a city's history.
"To adapt and provide unique experiences demanded by Modern, savvy travelers, we're continuing to target global hot spots, like Paris and Edinburgh, with retrofitted buildings using unique design aesthetics. It presents rare and unique building opportunities – perfect for travelers seeking those same experiences," said Steve Burns, BridgeStreet Managing Director of EMEA & APAC.
Hyatt signs the Philippines' first Hyatt Regency
凯悦酒店首次进驻菲律宾
Hyatt Hotels Corp. has entered into a management agreement with Donggwang Clark (DCC) to bring the Hyatt Regency brand to the Philippines.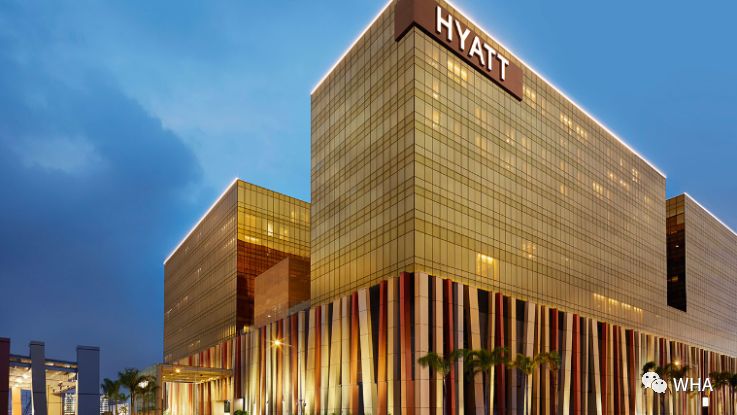 Hyatt Regency Clark, which is set to open in 2022, will be part of DCC's 763.5-acre mixed-use project D' Heights Resort. The development includes two 18-hole golf courses, a duty-free shopping mall, an indoor water park, residential towers and an IT park.
The 350-room hotel will be in the Clark Freeport Zone. It will be near the government's planned 65-mile train line to link between Clark and Metro Manila, which is scheduled to open by 2022. Plans are also underway for the expansion of the Clark International Airport.
"We are delighted to collaborate with DCC on Hyatt Regency Clark, which will mark the return of the Hyatt Regency brand to the Philippines," David Udell, group president of Asia Pacific at Hyatt Hotels, said in a statement. "We are excited to expand Hyatt's brand presence in the Philippines, where we are seeing a rise in leisure and business travelers. The new hotel, like other Hyatt Regency properties around the world, will be intuitively designed to make guests feel at home, while connecting them to what matters most."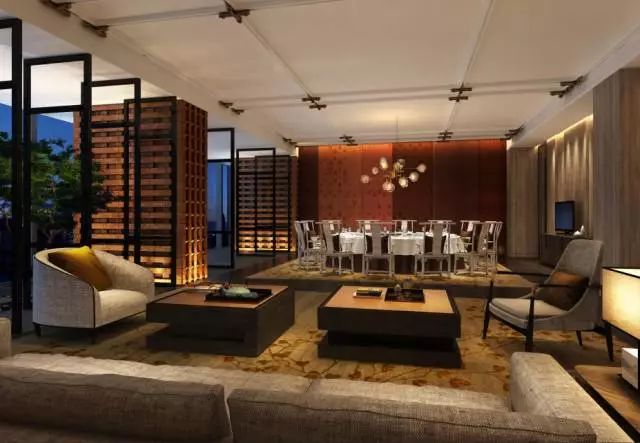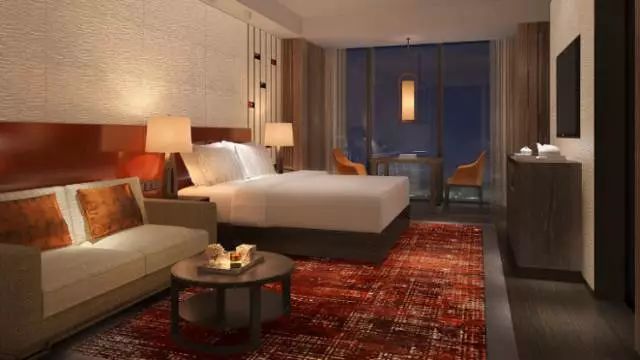 "We are thrilled with this opportunity to work with Hyatt to develop a premier hotel in Clark," Lee Shin Kun, chairman of DCC, said in a statement. "We believe that the addition of Hyatt Regency Clark to the other entertainment and leisure facilities in the D' Heights Resort will further boost the tourism industry not just in Clark, but in the entire country. This latest endeavor provides us with an opportunity to develop a hotel that not only provides world-class service, but also contributes significantly to the Philippines' economy."
This is the Hyatt Regency's second hotel signing in Asia-Pacific announced this week, following the Hyatt Regency Almaty, Rahat Palace in Kazakhstan in partnership with JSC Kazakh-Austrian Joint Venture. The 292-room-hotel is scheduled to open in 2019. Hyatt Hotels has 139 hotels operating in Asia-Pacific, two of which are in the Philippines: The Grand Hyatt Manila and the Hyatt City of Dreams Manila.
InterContinental San Diego Set for September 2018 Opening
圣地亚哥洲际酒店将于2018年九月开业
The InterContinental San Diego is poised to redefine the city's downtown waterfront this September on the historic grounds of Lane Field. The coastal property will be crafted by Torrance, California-based design practice Linda Snyder Associates.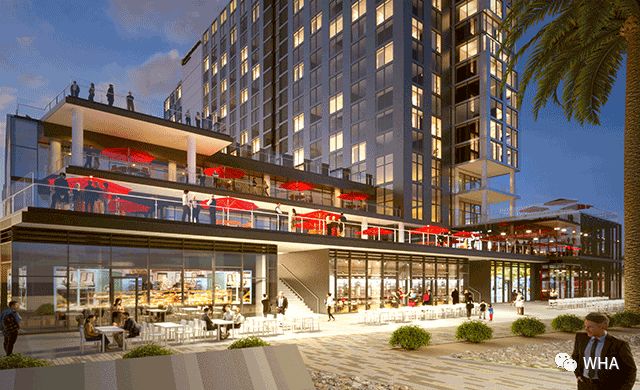 All 400 accommodations, including 24 expansive panoramic suites, showcase water views through floor-to-ceiling windows. Five F&B outlets will boast water views as well, including Del Frisco's Double Eagle Steakhouse, which will feature an open kitchen in the lobby. More casual concepts include the 19th floor rooftop bar, a pool bar, and a café. The spacious rooftop pool and sundeck on the fourth floor will provide additional outdoor space.
The hotel will also feature 35,000 square feet of versatile indoor spaces illuminated with abundant natural light, while 60,000 square feet of outdoor space will maximize bay views. The Pacific Ballroom will be crafted to accommodate 1,500 people across 12,000 square feet, and the large fitness center will be equipped with an outdoor yoga terrace as well.
Westgate Resorts Acquires Midtown Manhattan Hotel and Rebrands it Westgate New York City
Westgate Resorts收购曼哈顿城中区酒店并将其改名为Westgate New York City
Westgate Resorts announced today the acquisition of the former Hilton New York Grand Central, a 23-floor, 300-room, two-tower hotel located in the historic Tudor City neighborhood within the heart of Midtown Manhattan's East Side that has been rebranded Westgate New York City.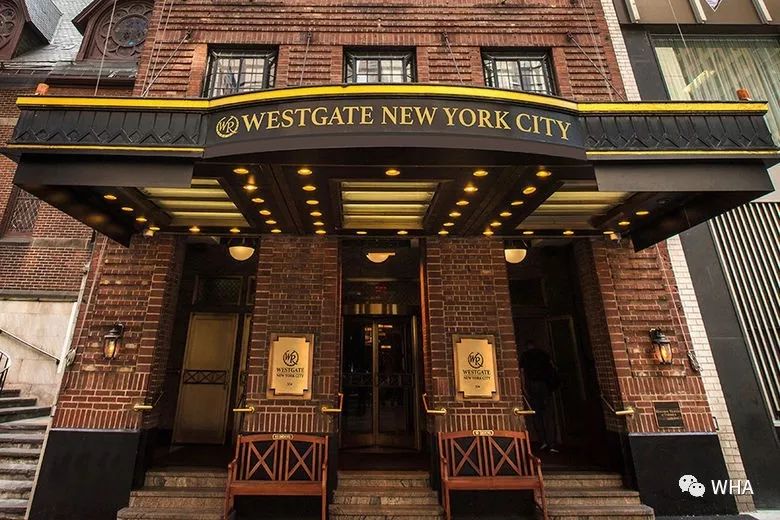 "It is with great excitement that I announce Westgate has purchased its first urban hotel located in none other than the Big Apple," said David Siegel, founder & CEO of Westgate Resorts. "This puts the Westgate flag proudly in the heart of one of the most visited cities in the world, located on East 42nd Street - only a few blocks from Times Square, the United Nations and Grand Central Station."
Denver's Oxford Hotel Completes Property-Wide Renovation
丹佛的牛津酒店大翻新
The Oxford Hotel, a historic property in the heart of Denver's LoDo district, recently completed a major renovation designed to celebrate the hotel's rich past while enhancing the authentic urban experience sought by today's modern travelers.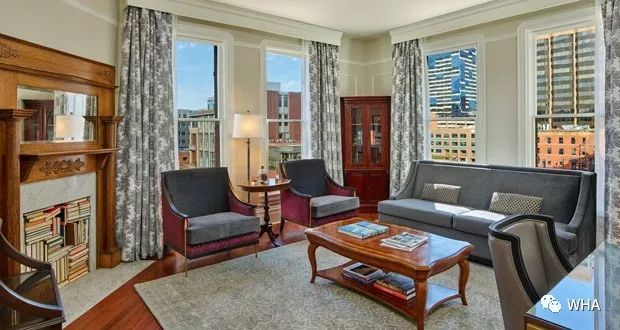 The refresh included updating the hotel's lobby and 80 guestrooms with a lighter and brighter overall design, featuring fresh white and gray tones complemented by pops of vibrant blue and rich emerald green. The original antique pieces in the guestrooms have been mixed with contemporary pieces along with new drapes, bedding, and light fixtures.
The Oxford's 10,000 square feet of meeting and event space has new carpet, lighting, wall coverings, and furniture. A popular destination for Denver urban weddings and corporate events, The Oxford offers three ballroom spaces including the Grand Ballroom and Oxford Theater, which are both housed in a restored carriage house next to the hotel and have capacities of up to 240 people, along with the Sage Room, which has large windows overlooking 17th Street and can host up to 100 people for a cocktail reception.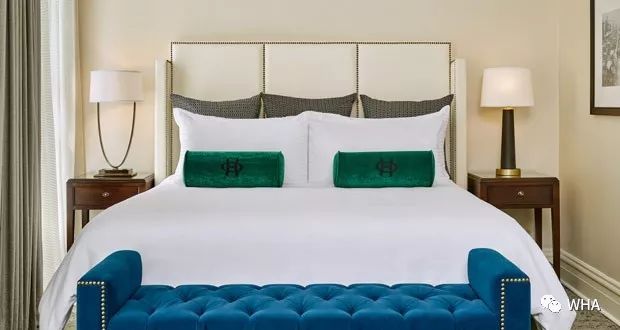 The Oxford Club, Spa & Salon—the hotel's full-service day spa, hair salon, and fitness center—upgraded its locker rooms and treatment rooms as part of the renovation. The Club offers an array of fitness equipment for resistance training and cardiovascular health, as well as a studio for Pilates, Yoga, and additional group classes.
Last fall, modern steakhouse Urban Farmer, a concept by the co-founder of Sage Restaurant, Group Peter Karpinski, opened adjacent to The Oxford. Helmed by Executive Chef Chris Starkus, Urban Farmer's seasonally-driven menu highlights nose-to-tail cuts of naturally-raised meat, including a communal charcuterie station. The Urban Farmer beverage program complements the whole-farm fare by highlighting early-American cocktails made with Colorado spirits, alongside local Denver craft beers and a curated wine list.
The Oxford is also home to Denver's Art Deco martini bar, the Cruise Room. Modeled after a bar in the Queen Mary, the Cruise Room was the first Denver bar to open after Prohibition was repealed in 1933. Guests of The Oxford can enjoy the hotel's complimentary Bourbon Hour offered twice nightly, where Denver's Laws Whiskey and other local artisanal spirits are poured.
Originally opened in 1891, the hotel is listed on the National Register of Historic Places. Its collection of classic Western art has been revived and re-hung with new frames selected by Denver's NINE dot ARTS. The Oxford recently earned a Four Diamond rating from AAA and was named one of the "Top Hotels in Colorado" on the 2017 Conde Nast Traveler Readers' Choice Awards.
Country Inn & Suites by Radisson Opens New Hotel Near Glacier National Park
拉迪森旗下Country Inn & Suites的新酒店于冰川国家公园附近开业
Located at 4150 U.S. Highway 2 East, the hotel is a destination for outdoor enthusiasts being just a short drive from the hiking trails and picturesque views of Glacier National Park, also known as the Crown Jewel of the Continent.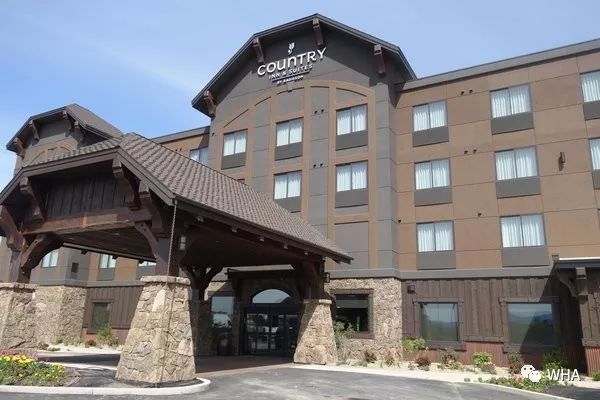 Country Inn & Suites by Radisson yesterday announced the opening of Country Inn & Suites by Radisson, Kalispell, MT – Glacier Lodge. Located at 4150 U.S. Highway 2 East, the hotel is a destination for outdoor enthusiasts being just a short drive from the hiking trails and picturesque views of Glacier National Park, also known as the Crown Jewel of the Continent. It is also conveniently located minutes away from Glacier Park International Airport, along with offering an airport shuttle for guests.
"We are thrilled to welcome this beautiful addition to our growing portfolio," said Aly El-Bassuni, senior vice president, Franchise Operations, Americas, Radisson Hotel Group. "The investment the hotel owners have made in this newly constructed hotel located near historic Glacier National Park will provide an exceptional lodging experience at one of America's most popular national parks."
The hotel offers 100 guest rooms and suites. There are many featured amenities at the hotel including an onsite fitness center, indoor pool with a waterslide, gift shop, free Wi-Fi and a complimentary hot breakfast. Guests can treat themselves to complimentary freshly baked cookies as well as coffee and tea throughout the day and relax near a warm bonfire on the outdoor veranda. The second floor lounge is the perfect escape for guests with its beautiful view overlooking Glacier National Park and the Rocky Mountains. The hotel can also serve as a venue for meetings and special events with its flexible meeting space that can accommodate up to 80 people.
"We are very proud to open the doors of our new hotel under the Country Inn & Suites brand," said Greg Bain, the hotel's owner.