On 26 July 2017, Coco Collection held an exclusive sunset cocktail in Kee Club, Shanghai, China. Various media friends of Coco Collection in hospitality industry were immersed in the best of the Maldives - the home-grown hospitality brand Coco Collection. The beautiful scenery and the hotel facilities, services, stories...Coco Collection presents an amazing show.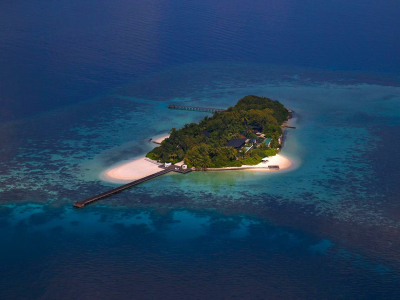 Coco Collection is a luxury boutique hotel chain in Maldives including three exclusive islands - Coco Prive Private Island, Coco Bodu Hithi, Coco Palm Dhuni Kolhu. Coco Prive Private Island is one of the world's most exclusive islands available for private hire. There are 6 single-family villas that can accommodate maximum 14-18 people including kids. It takes 45,000 dollars a night for the whole service in the island including food from Michelin chef, spa of Southeastern Asia, gym, etc. Sarah Hilmy, the daughter of the island owner in charge of Coco's marketing and sales, said that her farther know every guest's information. And their guests even cover celebrities, but they cannot tell the names due to confidentiality. It is a great place for honeymoon, family activity, wedding...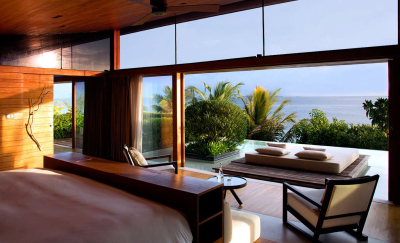 The five star Coco Bodu Hithi has 100 villas including 44 island villas, 16 water villas, 16 escape water villas, 24 Coco residences. Zaina Mohamed, sales executive of Coco, introduced that there is a door direct to the lagoon in the water villas where you can enjoy the lagoon view and also swim in the pool. She like it very much. It is a best choice for 2 adults.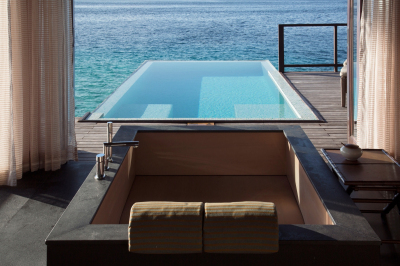 The five star Coco Palm Dhuni Kolhu has 98 villas including 9 ocean front villas, 23 beach villas, 25 sunset beach villas, 27 deluxe villas, 12 lagoon villas and 2 sunset lagoon villas. All of the villas are eco-friendly. This is a soulful place within a UNESCO biosphere reserve where you can reconnect with nature. The materials are of glass or wood rather than of plastic. The architecture is very localized, traditional and natural. There is a swimming pool just in front of the traditional house surrounded by lush greening.
Coco Collection's islands reveal luxury boutique style, from natural light expression to special texture of furniture and to the house butler service... Sarah told us that her father even spent several years on improving a shower room's design and decoration and material choosing, etc. How can you not be touched by such enthusiasm toward hotel operation and management? Coco Collection is a tick on your list for traveling Maldives.